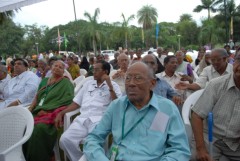 http://www.ghmc.gov.in/GHMCServices/index2.asp
The Indian Medical Association, Hyderabad City Agreed to provide 20% concessions to Senior Citizens under "AASARA - GHMC" towards Out patient/In patient and other Diagnostic procedures.
The AP Private Hospitals and Nursing Home Assocations (APNA) also extending Support upto 10% to Senior Citizens in all "APNA" Hospitals, in Hyderabad City.
ASSOCIATION OF SENIOR CITIZENS OF TWIN CITIES
D.R.K. Parama Hamsa
General Secretary
Greater Hyderabad Sr. Citizens Council
Rural Sr. Citizens Welfare Association of A.P
HUDA Colony Asifnagar Owners & Residents
Welfare Society
Res : 12-1-490/40-B/23, HUDA Colony, Asifnagar, Hyderabad - 500028 PH: 23532149, 9440277203
Sri. R.N. Mittal
Chairman forAssociation of Senior Citizens, Hyderabad & Lions Club of Twin Cities,
G.S.B. Trust Day Care Centre for Elders
Lions Bhavan, Behind HDFC Bank,
Near Paradise Circle, secunderabad.
PH:23542719.
Dr. P. Vyasa Murthy
President
Society for serving seniors.
PH: 27846631
Sri. C.Narasimhan
Vice President for Sr. Citizens Forum,
Centinary High School Compound,
Near Jubilee Bus Stand, Secunderabad

Sri. N.A Kumar,
President for Sr. Citizens Forum
PH: 27817597. Sri.V. Gopal Rao
President
Organising Secretary for FAPSCO.
PH: 23061166.

Prof. V. Visweswaraiah
President,
PH: 27797215. Sri. G.S. Vittal
General Secretary
Central Pensioners Association.
PH: 23532049.
=================================================

when you know that there are good people to turn to, bad times suddenly W don't seem so bad. A loving and supportive family is great, but sometimes they are not around when you need them. There are however, always people at the other end of a telephone line. All you might need is to make a call.
HelpAge India is one of the largest foundations for elderly care in the country, with regional offices in the four major metros and branch offices in 50 other cities in India.
Their helpline is a Toll Free Number (1800-180-1253), and provides information on everything from counseling to police protection to legal aid and looking for an old age home.
Programme head in Delhi Avenash Datta says that though they cannot go and help everywhere, efforts are on to prepare a network of senior citizens' association all over the country. "This way we will have a robust, sustainable model of voluntary agencies that are run, managed and maintained by senior citizens themselves."



Besides HelpAge,

there are several other offices across the country that do excellent work for the elderly. A few are listed below, and you can call them for information and help on any of these Police, old age home, agencies running ambulance facilities, blood bank, hospitals running sunday geriatric clinics, agencies providing attendants/ caregiver, free mobile medical units for slum areas, 24 hour chemists, legal helpline, narcotics unanimous – substance abuse, cancer support, AIDS awareness, abuse



Chennai –

STD Code – 044 HelpAge Police helpline – 1253 Dignity Foundation - 2647 3165



Bangalore

– STD Code – 080 Nightingales-Bangalore City Police: 1090 / 22943226 Nightingale's Medical Trust Elders' help line: 23548444 (The International Association of Homes and services for ageing.Dignity Foundation – 4151 1307



Hyderabad

– STD Code – 040 1. HelpAge - ASARA- 1253 Heritage Foundation – 040 – 23390000 Mr Saidul Reddy – 99480 77378 Pravin Ansal - 99480 79206



Dignity Foundation numbers in other cities Kolkatta – 033 -2418 7937/ 2429 6048

Visakhapatnam

- 0891 - 2703390

Jamshedpur

- 0657 – 2283 444
========================================

Every fridge, car and holiday package is bought in anticipation of joy and comfort. If it is bad E enough to learn that the service is defective, it is even worse to realize that the seller is prepared to do nothing.

Senior citizens are especially vulnerable to being taken for a ride. Several voluntary organisations in urban areas work on consumer rights and provide assistance in filing complaints in consumer courts according to the procedure laid down by the Consumer Protection Act.
The Act envisages a three-tier system to hear and decide consumer complaints, based primarily on the value of the compensation or goods being claimed.
If the compensation claimed or the value of the goods claimed in the complaint is a maximum of Rs 20 lakh, you can go to the district forums that are established by the state governments.
The second tier of the redressal mechanism is known as the state commission. The commission is also established by the state government and can entertain ? complaints where the value of the goods or services and compensation claimed exceeds Rs 20 lakh but does not exceed Rs 1 crore and ? appeals against the orders of any District Forum within the State; and ? take up a case pending before the district forum, if it feels that the forum has not exercised its powers in keeping with the law.
Finally, you can approach the third tier, the National Consumer Disputes Redressal Commission, in these cases: ? complaints where the value of the goods or services and compensation, if any, claimed exceeds Rs 1 crore; and ? appeals against the orders of any State Commission; and ? taking up a case pending before the district forum, if it feels that the state commission has not exercised its powers in keeping with the law.
The writer is a part of the vol untary organization Alternative Law Forum, based in Bengaluru.
===============================================================
OLD AGE HOMES LIST WEBSITE


http://www.ghmc.gov.in/GHMCServices/oldage_homes.asp?status=1
Free :
| | | | | | | | | |
| --- | --- | --- | --- | --- | --- | --- | --- | --- |
| S.No | Name of the Organisation | Address | phones/fax | Year of Incorporation | Type & Quantum of accomodation | Persons accepted &quantumof seats | food accept medical care | W.C.fo Orthopedic cases |
| 1 | Anuraag Human Services | 9-4-1-36/B, Qutub Shahi Tombs Road, Tolichowki, Hyderabad | 040-23560993, 2359799, 9392008292, 04-23560993 | yes, 1990 | Single,Double- 6 ,Dormitory- 2, Total- 8 | Male 13 and female 12 total 25 | Veg | Yes |
| 2 | Arm ghar | Indian council of social welfare - Ap Shivrmpally, Hyderabad | 08413-23391620, 23329587 | yea, 1957 | SingleDouble, Dormitory | Male 60 Female 50 | Veg | yeas |
| 3 | Bhimavarapu Laxmi Devi Memorial Trust | Mig-76 Phase -1- KPHB colony, Sangareddy, Medak | | 1995 | single | 30 | Veg | No |
| 4 | Home for the Aged and disabled | 5-3-419, Jeera | 08415-27530757 | yes,1993 | signgle, double, dormitoary | 100 | veg&non | No |
| 5 | Jyothi Welfare Association | H.No. 8-4-550/93, Nataraj Nagar, Borbannda, Hyd | 040-23836899 9848027156 | yes, 1991 | Single, Double, Dormitory | 26 | veg&non | No |
| 6 | Little Sister of the Poor Home for Aged | 6-1-33, New Boiguda, sec | 08415-227506194 | yes | Single, Double, Dormitory | 130 | veg&non | yes |
| 7 | Sai Seva Sangh | plot no 99, Road 12, Vivekanada Colony, Kukatpally, Hyd | 23005634, 23065796, 23818558, 9440408808 | yes 1988 | single, double, dormitory 25 total 25 | 25 | Veg | Yes |
| 8 | Upkaar Dr. Pasupuleti Nirmala Hanumantha Rao Charitalble Trust | S.No 105/A, Bharath Gas Godown, Kompally, Hakimpet, sec | | yes, 1987 | single, double, dormorit | 30 | veg | yes |
PAID


| | | | | | | | | |
| --- | --- | --- | --- | --- | --- | --- | --- | --- |
| S.No | Name of the Organisation | Address | phones/fax | Year of Incorporation | Type & Quantum of accomodation | Persons accepted &quantumof seats | food accept medical care | W.C.fo Orthopedic cases |
| 1 | ASARA | 12/1/334/1712, Besides Viswa Vani Radio Station, Lalapet, Hyderabad | 08413-7015612, 7000620 | yes,1998 | sinlge,double, dormitory | 14 | Veg | Yes |
| 2 | Association for the Car of the Aged | Jatakar Bhavan 1-08-526, Chikkadpally, Hyderabad | 08413-27668534 | Yes,1975 | Single,Double, Dormitory | Male 7 Female 6 Total 17 | Veg | yes |
| 3 | B.J.R. OldAge Home Health Care Centre | 5-24/29, Bhakshigudda, A.P.H.B. Colony, Moulali | 040-7124302 | yes,1994 | Single,Double, Dormitory | 25 | Veg | yes |
| 4 | Karunaya Services, Oldage Home | 1-6-20/1/2, Chaitanyapuri colony, Dilsuk Nagar, Hyd | 08413-24040132, 24045152 | No, 1997 | single,doulbe, dormitory | 40 | veg | yes |
| 5 | Oldage Welfare center | No. 28, HUDA Colony Via Chandanagar, Miyapur | 23045261 | yes,1983 | Single,Double, Dormitory | 83 | Veg | yes |
| 6 | Om Nivas (Welfare of the Needy) | 3-22, Mayuri Nagar Huda colony, Miyapur | 3045932,3045261 | yea,1994 | Single,Double, Dormitory | 24 | | |
| 7 | SAHAKAR HOME FOR THE AGED | PLOT NO- 1-10-316, Bapuji Nagar, Bowenpally,Sec | | yes1996 | single,souble, dormitory | 70 | veg | yes |
| 8 | Vasireddy Venkat Sunil Memorial Sevashram | Old Alwal, Sec | | yes 1996 | single,double, dormorit | 29 | veg | yes |
FREE & PAID


S.No

Name of the Organisation

Address

phones/fax

Year of Incorporation

Type & Quantum of accomodation

Persons accepted &quantumof seats

food accept medical care

W.C.fo Orthopedic cases

1

Chudamani Vrudha Asharam

Rehabilation Home Kukat pally, Hyderabad

23057679, 23057904

yes

Single,double, dormitory

Female

4800 Veg

No

2

Dangoria Charitable Trust

1-7-1074, Musheerabad

08415-27616005

yes1995

Single,Double, Dormitory

12

Veg

yes

3

Dr.Alaparti Venkatappaiah Home for citizens

plot no.59. SunderNagar, Hyd

08415-2272321

yes, 1991

Single,Double, Dormitory

20

Veg

yes

4

MEANS

5-227, Krishna Nagar colony

27242528, 9391039990

Single,Double, Dormitory

Veg

5

Sangha Mitra Home for Aged

1-4-880-2-14,Gandhi Nagar,Near Ashok Nagar,Hyd

1992

Single,double, dormoritory

25

veg

yes

6

Sangha Mitra Home for Aged for Human welfare

3-4-869, Barkatpur, Hyd

yes 1992

Single,double, dormoritory

20

veg

yes

7

Seva Samarpan Foundation Unit:Anurag Vanaprasthraman

25-33/2 Mallikarjun Nagar, R.C.Puram, Hyd

yes, 2002

Single,double, dormoritory

20

Veg

Yes

8

Shanti Old Age Home

17-1-462/10, Sankeswar Bazar, Dilsuk Nagar, Hyd

yes,1979

Single,double, dormoritory

300

Veg,nonveg
CONFEDERATION OF WELFARE ASSOCIATION

WELFARE ASSOCIATION MEMBERS

Sri G.Satyanarayana
Navodaya Colony
Chairman
23514201
9441263602

Sri B. Pulla Reddy
Balajinagar Colony
Vice-Chairman I
23511588

Sri B. Narayana
Kakatiyanagar
Vice- Chairman II
23510407
9440065312

Sri N.S. Narayana
Ayodhyanagar
General Secretary
23520844
9441476679

Sri K.Sankariah
Netajinagar
Secretary I
23524938
9848206546

Sri G.V.Soloman Raju
Padmanabhanagar
Secretary II
23510526

Sri G.V. Subba Rao
M.I.G.H.Srir5amnagar
Secretary III
23531024

Sri B. Janaki Rama Rao
Karol Bagh
Finance Secretary
23516345


EXECUTIVE COUNCIL MEMBERS

Sri. B.V. Subba Rao
Viswasnagar
23530352 / 9849642092

Sri K.C.C..Raju
Santoshnagar
23514710

Sri T. Mohan Rao
Om Nagar
23517856

Sri M.S. Kumar
L.I.C.Colony
23514577

Sri S.Raghuntha Reddy
Maruthinagar
23525476 / 9849999456

Sri Y. Krishna Murthy
Kanthinagar
23512966 / 9849042995

Sri C.V. Kondanna
Ushidaya Colony
23514463 / 9441236898


ADVISORS

K. Adisheshavataram
23515232

Sri K. V. Ramaniah
9849662131

Sri K.Ashok Kumar
23512675

Sri N. Guruswamy
23518431

Sri N. Krishna Murthy
23513574

Sri D. Hanumantha Rao
23512670

Sri Y. Narendra Reddy
98496223744

Wing Comm: V.R.Raju
9246532133 / 23531684

10. Sri Ramanaiah
23510131 / 9849662131