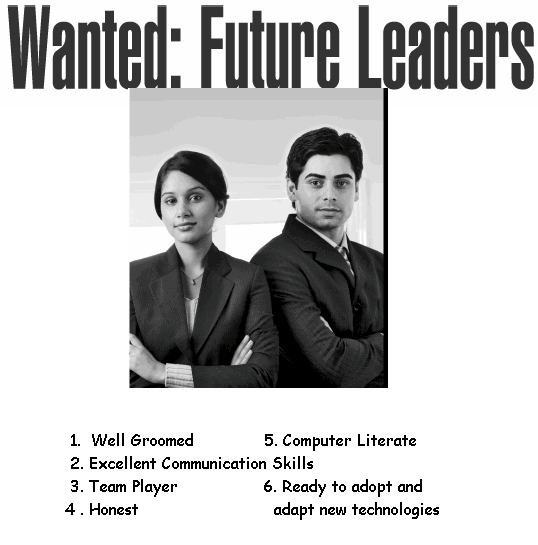 Dear Friends ,
S 9 Ashwin welcomes you to this Jobs & Career Info page
Please find the websites info which can be useful to you in your Jobs

Search
and share this info to all in your circle. My aim is to see there

are jobs to
every ALWAL- GHMC TOTAL AREA [Alwal, Bolaram,

Yapral,etc]
CITIZENS ,A.P & INDIA Follows suit.
=======================================================

Read this before you launch your JOB HUNT MISSILE


Although India's young demographic profile and a huge talent pool are contributing to her current economic boom, the spectre of youth 'unemployability' looms larger than life. Youth unemployability is a bigger crisis than unemployment itself, says the India Labour Report 2007
Of the total unemployed youth population of 232 million, a mere two per cent enter the services job market in the organised sector. A McKinsey study reports that only a quarter of all engineers, 15 per cent finance professionals and only 10 per cent of graduates can be employed for general positions.For every 5 hires, there are 250 near hires, which directly impacts the employee demand supply equation.
With over 300 universities and 15,600 colleges spewing out 2.5 million graduates each year, India trails behind only the US and recently China, in the volume of employable graduates
S9 says :
DO NOT BE "AMERICA VIA AMEERPET TYPE "
7.
By Mamata Borthakur/ TNN

Hyderabad: This is a wakeup call for all students wanting to study in the US. Please do not produce fake financial documents because doing so may mar your chances of not only studying in the US, but also in any other country, forever.Andhra Pradesh is gradually gaining the reputation of having the highest number of students producing fake documents about liquid assets, next only to Gujarat. According to US education counsellors in the city, in the past seven months, almost 350 such cases have been reported from Hyderabad. Getting caught with fake documents would mean getting booked under 212 A, which would get one a red stamp on his passport barring him from entering into the US permanently and also pose as a major hurdle in his study plans in any other country abroad.


========================================


Few Suggestions to guide you in the right direction as a friend and also as an H.R.Consultant

1. Do Not Submit Fake Degrees

2. Do not Submit Fake Experience certificates


3. Do not do Fake or Photo copied projects.Innovate


4. Do not try back door entry methods


5. Do not write CCP Resume [ Cut Copy Paste]

6. Do not attend interview in John Abraham style


wearing jeans and giving your resume from your


back pocket. Wear Formal dress.

7. Do not mouth when asked tell me about


yourself what is there already in the resume as if


you are attending an oral test



8. Do not carry your resume / certificates in

Chandana bros / some other plastic bag. Keep an

extra copy of your resume /photocopies of all

your certificates/photos in a neat file folder and

carry that in a simple executive bag.

9. You do not get a second chance to make the

first impression , FIRST IMPRESSION IS THE BEST

IMPRESSION. WEAR YOUR NATURAL SMILE.


Godspeed your job hunt

Hasta La Vista ,Go ahead make your,mine & our day

Good Luck

Ashwin

SarveJanaSukhinobhavanto!




=============================================


Here is the List




1.http://s9jobs.wetpaint.com - Local Hyd/A.P.more

2.http://www.naukri.com

3.http://www.monster.com

4.http://www.jobsahead.com

5.http://www.jobsmill.com

6. A. http://www.jobstreet.com

B. http://in.jobstreet.com/ -> International Jobs

7. http://www.indiasjobs.com

8. http://hyderabad-jobs.com

9. http://www.bixee.com

10.http://www.timesjobs.com

11. http://www.yuvajobs.com/jobsview_all.asp
[ for freshers ]


Features Hyderabad Jobs in more than 60 categories: IT, Software Jobs, Call Center Jobs, BPO, Marketing, Sales, J2EE, Dot NET Jobs, ERP, Web Design, Advertising, PHP Jobs, etc.
Jobs in Hyderabad -
http://jobsinhyderabad.com
/
The following are some of the popular categories:
BPO Jobs in Hyderabad
http://jobsinhyderabad.com/jobs/bpo-jobs-hyderabad/
Freshers Jobs in Hyderabad
http://jobsinhyderabad.com/jobs/freshers-jobs-hyderabad/
Software Jobs in Hyderabad
http://jobsinhyderabad.com/jobs/software-jobs-hyderabad/
Dot NET Jobs in Hyderabad
http://jobsinhyderabad.com/jobs/dot-net-jobs-hyderabad/
Java J2EE Jobs in Hyderabad
http://jobsinhyderabad.com/jobs/java-j2ee-jobs-hyderabad/
Marketing Jobs in Hyderabad
http://jobsinhyderabad.com/jobs/marketing-jobs-hyderabad/
Sales Jobs in Hyderabad
http://jobsinhyderabad.com/jobs/sales-jobs-hyderabad/
Web Design Jobs in Hyderabad
http://jobsinhyderabad.com/jobs/web-design-jobs-hyderabad/
Software Testing Jobs in Hyderabad
http://jobsinhyderabad.com/jobs/software-testing-jobs-hyderabad/